Did I tell you how much I LOVE the kits at A Million Memories? Every time I think the new kit is the absolute best every....the next kit comes out and I have to change my mind. The October kit is no exception. OMGOSH!!! Check out the projects I did with this kit!!!
~You Take My Breath Away~

I just LOVE this picture of Vanessa!! And THANKS to Emily for the title idea!! Everything is from the kit with the additions of:
- shaped cardstock: Bazzill; Stamps: Technique Tuesday (Big Timber Line); extra rubon letters: 7Gypsies; Birdie rubon: Jenni Bowlin Studios (previous kit); ink: StazOn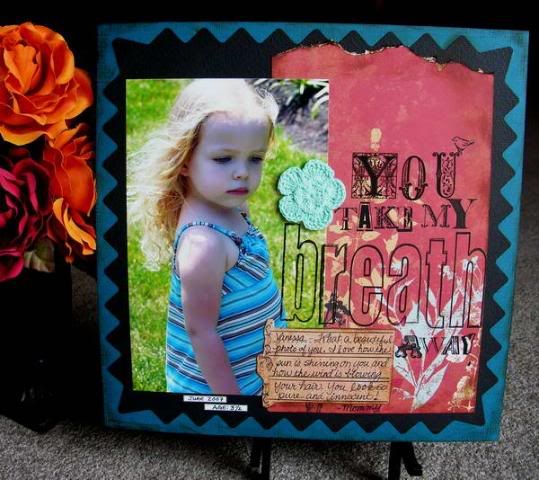 ~a little birdie told me~
Love this picture of Nick. It's not perfectly focused but it shows hit blue eyes and chubby cheeks. Everything from the kit except:
- foam letters: American Crafts (thickers...previous kits and AMM store); shaped cardstock: DCWV. I also used distress ink on the doillie so it matched the paper.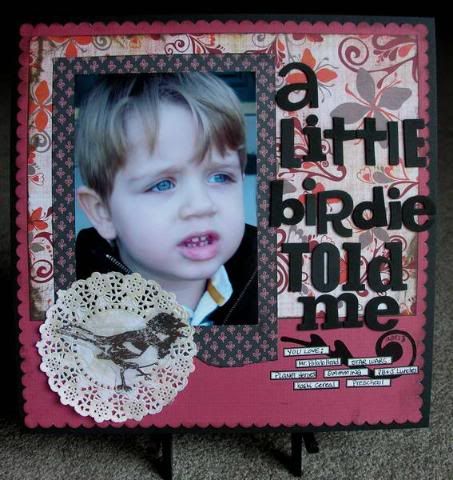 ~Moments Like This~

Pic of Vanessa last Thanksgiving hanging out on our new stairs in the foyer. I caught her by surprise. Everything is from the kit except:
- Shaped cardstock: DCWV; black velvet ribbon: Michaels
~Art Journal~
It was time for me to make a new Sketch Journal. I can't wait to get started using it. Everything is from the kit except:
- Stamps: Hero Arts, Nick Bangkock, Inkadinkado; journal: Target. I used PPA to attach paper, coat paper and attach flower.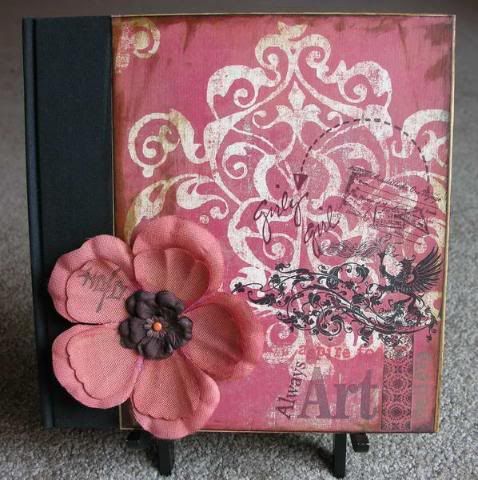 ~You Should See My Brothers~

My poor Vanessa. You can see in the journaling how I cried. (Michael "stabbed" her with a plastic straw while they were playing. DH came up with the title!! Everything is from the kit except:
- Extra alpha rubons: 7Gypsies & MM; Shaped cardstock: Bazzill (October cardstock add-on kit); metallic pen: American Crafts; large photo corner punch: EK Success