Hi everyone!!! It's been quite a while since I hosted a DT Challenge so I'm very excited. I hope you decide to play along.
My theme for this challenge is "Nobody's Perfect". We seem to always scrap those perfect moments. The perfect photo of our kids or family with a perfect smile. We scrap all of the nice things in life.
Your challenge is to scrap those "IMPERFECT" moments in your life or someone else's. Maybe you can even scrap your (or their) imperfections. Either way...you want to include this in your families' memories!! ENJOY AND HAVE FUN!!!
Post your project/layout in the gallery and then a photo or link
on AMM
to be considered for the PRIZE!!!! You can enter as many times as you want. I'll put everyone's name in a hat and then pick one person to WIN the PRIZE below.....on or about Monday, August 11th.
Here is my layout. Vanessa was so bored while the boys enjoyed their friends during their 8th Bday party. Normally I would have her facing into the center of the page as a design "rule". But she just looked more bored when I faced her looking off the page. What do you think??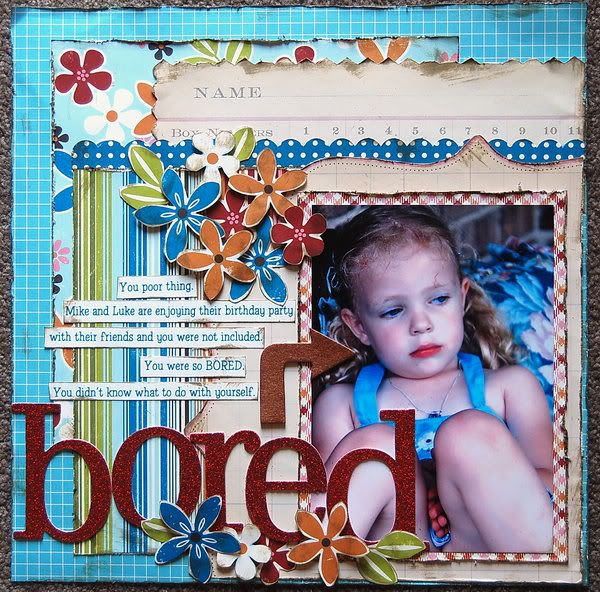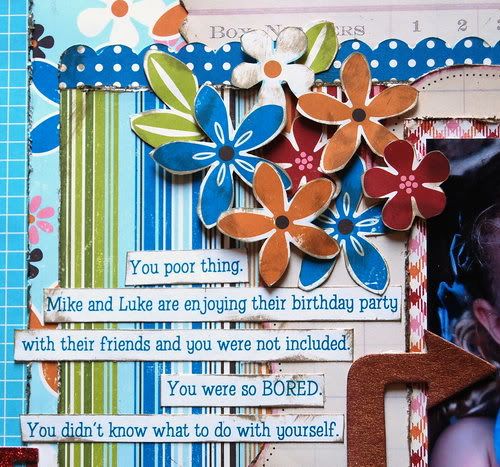 And here is what you are playing for.......A cool prize package which includes some of the same October Afternoon paper and tags that I used on my project. I also included some of my favorite Making Memories paper and embellishments...along with some 7Gypsis, K&Company and large "Tim Holtz-type" tags. I inlcluded a cool wooden box with a handle that would make a cool gift or a spot for a cute mini album.